Mokai Geothermal System
Location and general description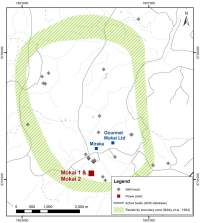 The Mokai Geothermal System is located within the Waikato Region, 20 km north of Taupo. It covers an area of about 12 to 16 km2.
The Waikato Regional Plan classifies the Mokai Geothermal System as a Development Geothermal System where the take, use and discharge of geothermal energy and water will be allowed, while:
remedying or mitigating significant adverse effects on Significant Geothermal Features; and
avoiding, remedying or mitigating adverse effects on other natural and physical resources including overlying structures (the built environment).
This classification is based on:
The system is already subject to large scale energy use and development.
Few surface outflows vigorously depositing sinter.
No evidence of a flow of subsurface geothermal fluid to or from a Protected Geothermal System.
Local Geology and geophysics, wells drilled, etc.
Geoscience and drilling in the 1980s indicated the Mokai field's potential. The field has some of the hottest geothermal wells in New Zealand with recorded downhole temperatures of up to 326°C. One well was deemed capable of generating 25 MW(e). The high reservoir temperatures mean that wells tend to produce high steam content fluids with high chloride and silica content.
Permeable zones are commonly hosted by ignimbrite and fractured lava (rhyolite or andesite) units, even though basement faults are likely to provide deep structural control on the primary fluid upflow.
In 2011 there were 22 wells in total, 11 for production, six for injection and four others. There is a strategy of 100% reinjection though a common injection system for all plants. Fluids are injected at the northern periphery of the field to depths ranging from 500m to 2400m.
Natural features
The field lacks the spectacular thermal activity present at many other fields, consisting only of small areas of steam-heated activity.
Significant Geothermal Feature types present include:
At Paerata Road
Heated ground habitat
Mud geyser
Mud pools
At Tirohanga Road
Heated ground habitat
Mud pools
At Waipapa Stream
Geothermally-induced atmospheric microclimate
Geothermally-influenced water body (Waipapa Stream)
Mud pools
Geothermal vegetation
Geothermal kanuka surrounds features at Waipapa, Tirohanga Rd, and Paerata Rd features. The rare geothermal fern Christella aff. dentata ("thermal") is also present. The fungi Lycopodiella cernua and Psilotum nudum, both characteristic species of geothermal areas, also occur at this site.
Existing and historical geothermal uses
Maori have traditionally bathed in the outflow of the Tirohanga Rd features.
Mokai has a variety of plants using the geothermal energy. These include power plants, a large greenhouse complex, a milk processing plant and a plant nursery.
Power plant details are provided in the following table.
Table
| Power Plant | Commissioned | No of Units | Type of Unit | Total Installed Capacity (MW(e)) | Annual Energy Produced (GWh) |
| --- | --- | --- | --- | --- | --- |
| Mokai 1 | 1999 | 6 | H (1F, B) | 55 | |
| Mokai 2 | 2005 | 5 | H (1F, B) | 39 | 927 |
| Mokai 1A | 2007 | 1 | B | 17 | |
An 11 ha glasshouse has been developed to use the geothermal heat from a dedicated well.
The Miraka dairy factory supplied with geothermal heat was commissioned in August 2011.
Future Plans for Mokai Geothermal Field:
Tuaropaki Power Company continues to assess the potential of the Mokai Geothermal Field. They recognise the value associated with steam for direct heating purposes. Experiments have been undertaken to clean up the non-condensable gas flow from the cooling towers so the CO2 can be used in the glasshouse rather than purchasing this externally.
Inferred size of resource
Based on stored heat models, the energy development potential is about 155 MW(e).