News.
Or view the New Zealand Geothermal Association Newsletters online here
30th Anniversary Celebration: NZGA in Print
As the NZGA celebrates thirty years since its first meeting, we had the following article printed in newspaper publications across the country. Our thanks to past NZGA Board members Paul Bixley, Andy Bloomer and Tom King for their assistance with informing this piece.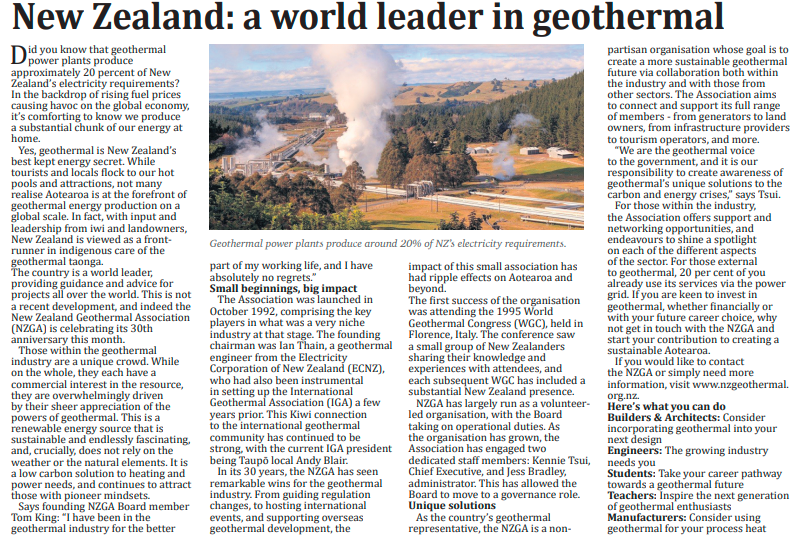 New Zealand: a world leader in geothermal
Did you know that geothermal power plants produce approximately 20 percent of New Zealand's electricity requirements? In the backdrop of rising fuel prices causing havoc on the global economy, it's comforting to know we produce a good chunk of our energy at home.
Yes, geothermal is New Zealand's best kept energy secret. While tourists and locals flock to our hot pools and attractions, not many realise Aotearoa is at the forefront of geothermal energy production on a global scale. In fact, with input and leadership from iwi and landowners, New Zealand is viewed as a front-runner in indigenous care of the geothermal taonga. The country is a world leader, providing guidance and advice for projects all over the world. This is not a recent development, and indeed the New Zealand Geothermal Association (NZGA) is celebrating its 30th anniversary this month.
Those within the geothermal industry are a unique crowd. While on the whole, they each have a commercial interest in the resource, they are overwhelmingly driven by their sheer appreciation of the powers of geothermal. This is a renewable energy source that is sustainable and endlessly fascinating, and, crucially, does not rely on the weather or the natural elements. It is a low carbon solution to heating and power needs, and continues to attract those with pioneer mindsets. Says founding NZGA Board member Tom King: "I have been in the geothermal industry for the better part of my working life, and I have absolutely no regrets."
Small beginnings, big impact
The Association was launched in October 1992, comprising the key players in what was a very niche industry at that stage. The founding chairman was Ian Thain, a geothermal engineer from the Electricity Corporation of New Zealand (ECNZ), who had also been instrumental in setting up the International Geothermal Association (IGA) a few years prior. This Kiwi connection to the international geothermal community has continued to be strong, with the current IGA president being Taupō local Andy Blair.
In its 30 years, the NZGA has seen remarkable wins for the geothermal industry. From guiding regulation changes, to hosting international events, and supporting overseas geothermal development, the impact of this small association has had ripple effects on Aotearoa and beyond. The first success of the organisation was attending the 1995 World Geothermal Congress (WGC), held in Florence, Italy. The conference saw a small group of New Zealanders sharing their knowledge and experiences with attendees, and each subsequent WGC has included a substantial New Zealand presence.
NZGA has largely run as a volunteer-led organisation, with the Board taking on operational duties. As the organisation has grown, the Association has engaged two dedicated staff members: Kennie Tsui, Chief Executive, and Jess Bradley, administrator. This has allowed the Board to move to a governance role.
Unique solutions
As the country's geothermal representative, the NZGA is a non-partisan organisation whose goal is to create a more sustainable geothermal future via collaboration both within the industry and with those from other sectors. The Association aims to connect and support its full range of members - from generators to land owners, from infrastructure providers to tourism operators, and more. "We are the geothermal voice to the government, and it is our responsibility to create awareness of geothermal's unique solutions to the carbon and energy crises," says Tsui.
For those within the industry, the Association offers support and networking opportunities, and endeavours to shine a spotlight on each of the different aspects of the sector. For those outside, 20 per cent of you already use geothermal-based electricity via the power grid. If you are keen to invest in geothermal, whether financially or with your future career choice, the NZGA can help start your contribution to creating a sustainable Aotearoa.
If you would like to contact the NZGA or simply need more information, visit www.nzgeothermal.org.nz.
HERE'S WHAT YOU CAN DO
Builders & Architects: Consider incorporating geothermal into your next design
Engineers: The growing industry needs you
Students: Take your career pathway towards a geothermal future
Teachers: Inspire the next generation of geothermal enthusiasts
Manufacturers: Consider using geothermal for your process heat
Categories