News.
Or view the New Zealand Geothermal Association Newsletters online here
NZ Geothermal Power Generation in 2019
This note briefly updates the New Zealand's geothermal generation for calendar year 2019.   
The latest statistics from the Ministry of Business, Innovation and Employment (MBIE) show geothermal generation increased slightly (0.7%) during calendar 2019 from 7,386 GWh in 2018 to 7,439 GWh in 2019.   Geothermal remained the second largest power supplier, representing 17% of total generation. Total renewable generation fell slightly from 83.9% in 2018 to 82.4% in 2019 due to seasonal hydro conditions.  
Figure 1: net generation in New Zealand 2019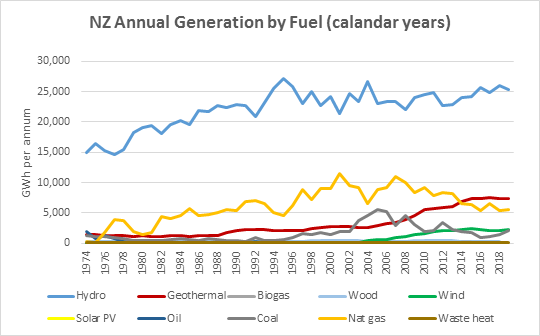 Source: MBIE
New Zealand's geothermal plant capacity factor rose slightly to 87% in 2019.  This compares favourably with other established geothermal countries such as the USA, Italy and Iceland (Figure 2 below).  
Figure 2: national geothermal generation capacity factors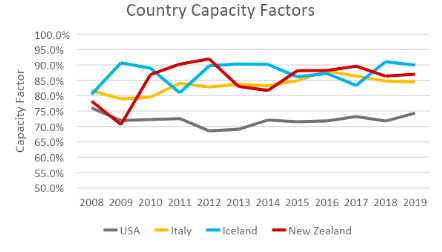 Sources: Enel, EIA, MBIE, Orkustofnun, Contact Energy
Electrical generation by field has remained steady since 2015. Wairakei remains the largest producing field, followed closely by Rotokawa and Kawerau.
Figure 3: NZ geothermal generation by field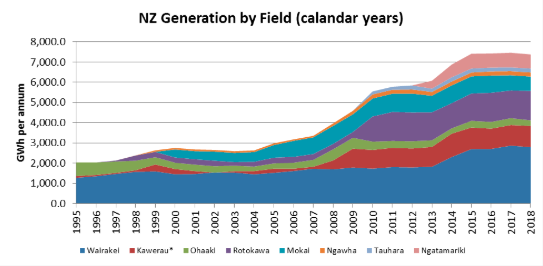 Sources: NZ Electricity Authority, MBIE, Contact Energy
Drilling activity continued at the low level typical of the past few years.  Century Drilling drilled and completed three wells; one each by Ngati Tuwharetoa Geothermal Assets, Mercury Energy and Contact Energy.  Drill Force Rig 1 drilled one injection well for Eastland Generation.  
Development activity continued in 2019; Top Energy's 26 MWe Ngawha 3 project looks to commission later in 2020.  Contact Energy tendered the Tauhara II development (estimated at 120 to 150 MWe). The company intends to reach a final investment decision in 2020.   
- Ted Montague
Categories